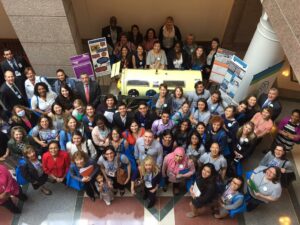 Grassroots advocacy makes a huge difference in raising immunization rates in every community. These groups vary in focus, but they all hold as their center the idea that every child deserves protection from vaccine-preventable diseases.
If you do not see a group listed near you, consider starting one. If you have an existing group, let us know about it.
Arizona
Arizona parents work alongside TAPI (The Arizona Partnership for Immunization) to advocate for solid vaccine policies and parent-to-parent communication about the value of vaccines. Contact them here.
Colorado
Colorado Parents for Vaccinated Communities (CPVC) is an organization of Colorado parents who support pro-science vaccine policy for the safety of Colorado children and their communities. Contact them here.
Minnesota
Minnesota Childhood Immunization Coalition is a collaboration between parents and providers, led by parents, that seeks to protect every child in every Minnesota community from vaccine-preventable diseases. Contact them here.
Indiana
Hoosiers Vaccinate is a positive, parent-led organization that advocates for solid vaccine communication and policy across Indiana. Contact them here.
South Carolina
SC Parents for Vaccines is a parent-led group that works to raise immunization rates across the state by supporting good policies and reaching parents with good information. Contact them here.
Texas
Immunize Texas is one of the largest and most active parent organizations in the country. They host several legislative action days every year and work hard in many communities to raise immunization rates. Contact them here.