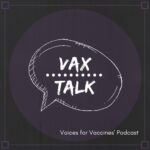 Support Voices for Vaccines and its podcast by donating here.
Vax Talk is the podcast for people who want to do something about outbreaks of vaccine-preventable diseases and who understand that knowledge is power. We will discuss the latest news about vaccines and the impact they have on our communities, our families, and our friendships.
Subscribe now at iTunes, Google Play, or Stitcher. You can also listen to these episodes on Cast. While you are at it, take our survey to help us build a better podcast!
And leave a 5-star review!
Episode 17: Mamas, don't let your babies miss NIIW
Nathan and Karen talk to Every Child By Two's Amy Pisani about how the immunization challenges have changed over the decades and what challenges we face in our work together combatting vaccine-preventable diseases.
Links from the episode:
Every Child By Two/Vaccinate Your Family
Hotez/Caplan article
New Jersey hearing video
Episode 16: What about the dads?
So much of vaccine advocacy is aimed at mothers, but where are the dads in all of this? To find out, Nathan and Karen talked to Dean Masello, writer, comedian, and SAHD. Find him at wokedad.com.
This episode was made possible by a generous donation from Immunization Action Coalition: www.immunize.org.
Episode 15: Parenthetical Science
Karen and Nathan host Dr. Chad Hayes and Natalie Newell from the Parenthetical Science podcast for a rousing discussion about how parenting is harder than it needs to be and how people fall into the neverending woo rabbit hole.
Links from the episode:
Social media/HPV article
Nathan's Needlephobia video
Parenthetical Science podcast
Episode 14: Ask Dr. Offit
Nathan and Karen talk to Dr. Paul Offit–head of infectious diseases at Children's Hospital of Philadelphia and all around good guy. Dr. Offit took the time to answer questions our listeners submitted online, covering topics from influenza to pertussis to advocacy.
Episode 13: HPV Cancers, Vaccines, and Cervivors
It's Cervical Cancer Awareness Month! In this episode, Nathan and Karen talk to Tamika Felder about her battle with HPV-caused cervical cancer and her organization, Cervivor.
Links from this episode:
Bonus Episode: Live at NFID
In November, Nathan and Karen traveled to Bethesda, MD to record a live episode at NFID's Vaccinology Course. They discussed vaccine messaging with the good people there, and now, as a holiday treat, are sharing it with you.
Watch for more great VAX TALK episodes in 2018, and support our mission.
This episode was made possible through the sponsorship of NFID. Thank you, NFID!