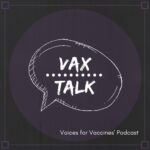 Support Voices for Vaccines and its podcast by donating here.
Vax Talk is the podcast for people who want to do something about outbreaks of vaccine-preventable diseases and who understand that knowledge is power. We will discuss the latest news about vaccines and the impact they have on our communities, our families, and our friendships.
Subscribe now at iTunes, Google Play, or Stitcher. You can also listen to these episodes on Cast.
Episode 6: Andrew Wakefield
Everyone knows Andrew Wakefield as the author of "that paper," but few know the full extent of his dealings in the anti-vaccine community. We talk to Ken Reibel and Matt Carey, two father of autistic children and active writers and autism advocates, to learn more. Links mentioned in the episode include Brian Deer's research, Curtis Brainard's CMJ article, Wakefield's original video, the Jamaica conference.
Episode 5: Measles in Minnesota
The worst measles outbreak in Minnesota in 25 years, sparked by anti-vaccine misinformation, has us asking how officials handle outbreaks. We talk to Joe Kurland, Infection Preventionist at Children's Minnesota, and Minnesota Representative Mike Freiberg to get answers. Get more information from Children's Minnesota about measles and from MDH about the latest outbreak statistics.
Episode 4: National Infant Immunization Week!
National Infant Immunization Week (NIIW) is a week that coincides with World Immunization Week and stresses the importance of the vaccines babies receive in the first two years of life. We answer questions about what diseases those vaccines protect against and talk to two mothers whose babies caught vaccine-preventable diseases before they were able to be vaccinated against them.
Episode 3: Vaccines and Legislation
The internet has exploded with concern about HHS Secretary Price's statements concerning leaving vaccine requirements to the states, but how concerned should you be? Later we talk to Sarah Despres (ECBT board member) about what the federal government can do concerning vaccines and what effect the American Healthcare Act and the president's proposed budget could have on immunizations. Then we turn to Jinny Suh (Immunize Texas) to discuss state legislation, particularly in Texas, and how parents can become involved. [Also, find the t-shirts we mentioned here and links to Texas Legislative Days here.]

Episode 2: Outbreaks! with Dr. Paul Offit
So far, 2017 has seen 495 cases of mumps and 23 cases of measles. Influenza is widespread, HPV is ubiquitous, and pertussis outbreaks pop up regularly. What's a parent or provider to do? We discussed the landscape of vaccine-preventable disease outbreaks with Dr. Paul Offit from the Vaccine Education Center at Children's Hospital of Philadelphia. [Also, find more information about the AAP letter to President Trump here and the latest PEW research about vaccine acceptance here.]
Episode 1: HPV Vaccine and Someone You Love
The HPV Vaccine is too often treated like an add-on or an exception, but it prevents six forms of cancer. In this podcast Karen Ernst (Voices for Vaccines) and Dr. Nathan Boonstra take on the myths and the facts about the HPV vaccine. In the second half of the podcast, filmmaker Frederic Lumiere (Someone You Love and Lady Ganga) and Christine Base (The Yellow Umbrella Organization) discuss what they learned from making Someone You Love and from surviving cervical cancer. [Also, find out more about Frederic Lumiere's HPV vaccine safety information here.]
Episode 0: Big News!
If the idea that we can debate prevention and science has your attention, then we have a podcast for you. Karen Ernst (Voices for Vaccines) and Dr. Nathan Boonstra (Blank Children's Hospital) introduce a new podcast all about vaccines and the conversations surrounding them.