Human papillomavirus (HPV) Vaccine
What is Human papillomavirus (HPV)?
There are more than 200 types of human papillomavirus (HPV) – 40 of them can cause infections of the genital area, mouth, and throat. Genital HPV infections are very common. Most people (80%) who are sexually active will get HPV at some point in their lives. About 14 million Americans, including teens, become infected with HPV each year.
What are the risks of HPV?
The majority of people who get HPV will have no symptoms. But there are at least 6 types of HPV that can cause cancer. Cervical cancer is the most common, but other cancers include vulvar, vaginal, penile, anal, mouth, and throat cancers.
Each year about 13,800 new cases of invasive cervical cancer are diagnosed, and about 4,290 women die from cervical cancer. Almost all of those cases are due to HPV.
How effective is the HPV vaccine?
The HPV vaccine is very effective. Since being recommended in 2006, HPV infections against the strains covered in the vaccine have decreased by 85% in girls aged 14 – 19 and 71% in women in their early 20s.
How safe is the HPV vaccine?
The HPV vaccine is very safe. Some anti-vaccine individuals have tried to cast doubt on the safety of the vaccine, but the facts speak for themselves:
Scientists have extensively studied HPV vaccines for more than 12 years.
More than 74,000 individuals participated in clinical trials studying the safety and effectiveness of the vaccines.
Healthcare providers have safely administered more than 120 million doses of the HPV vaccine, protecting millions of young people from cancer.
Like any vaccine or medication, there can be side effects, but they are usually mild, including:
soreness in the arm where the vaccination is received (occurring in about 1 out of 5 children)
dizziness or fainting (more common in adolescents – it is recommended that teens stay seated or lying down for 15 minutes after getting the vaccine)
nausea
headache
Mild vaccine reactions are normal and signs the body is mounting an immune response to protect against HPV. Serious adverse reactions are rare – about 3 cases of anaphylaxis are reported per 1 million doses.
When should my child get the HPV vaccine?
All 11–12-year-old boys and girls need two doses of the HPV vaccine to protect against cancers caused by HPV infections. These cancers can affect both men and women.
We get it; you don't want to think about your young teen being sexually active so you might be hesitant to get them vaccinated, but there are excellent reasons to vaccinate on time:
Better protection: 11 -12-year olds have a stronger immune response to the HPV vaccine than teens who are vaccinated later.
Easier to complete the series: There are more chances to vaccinate (and complete the vaccine series) since doctors tend to see pre-teens more than teens for well visits.
Lower risk of exposure: The HPV vaccine only works if the series is complete BEFORE a person is infected, and almost no 9 -12-year olds have HPV.
More effective: Early vaccination prevents significantly more pre-cancer than later vaccination.
Talk to your healthcare provider about what vaccines your family needs.
What can I expect at a HPV vaccine appointment?
A little research before your visit can go a long way to reducing your stress and concerns. Credible information helps ensure healthy choices and builds vaccine confidence.
HPV vaccine Fact Sheet
Does your child have an upcoming HPV vaccine appointment? Be prepared by downloading our HPV vaccine fact sheet.
Where can I get more information?
These organization are vaccine experts and can provide credible information:
How do I know this information is credible?
We work for parents so we make sure that parent concerns are addressed using facts and science and our content is reviewed by experts who have spent their careers studying vaccines. Learn more about how we ensure we are bringing you the best information to help you make healthy choices for your family.
Know the risks: HPV

HPV is a very common virus that can cause cancer.
80% of us will get an HPV infection in our lifetime.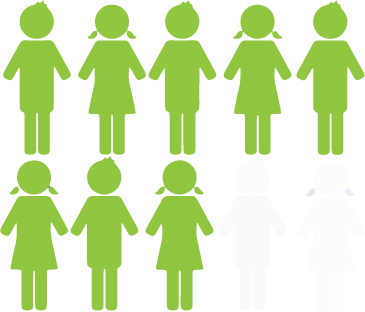 With more than 100 million doses given in the U.S. we have a lot of evidence of the HPV vaccine benefits:
In girls ages 14-19 there was a
drop in cancer-causing
HPV infections
Among young people vaccinated there was a
lower risk of cervical pre-cancer
Numbers don't lie – the HPV vaccine is one of our best weapons against cancers that can rob our children of their future.
Don't let anyone tell you different: The vaccine is ALWAYS safer than the disease