A hero's welcome for vaccines
Too frequently we hear dangerous disinformation like the diseases that vaccines prevent aren't that serious. So we think it's to take a moment to provide some numbers to disabuse people of this dangerous myth.
Here are the facts: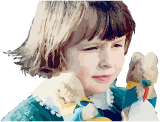 "Are you feeling all right," I asked her.
"I feel sleepy," she said.
An hour later she was unconscious. Twelve hours later she was dead.
Roald Dahl, author of Charlie and the Chocolate Factory and James and the Giant Peach, on the last conversation he had with his daughter Olivia who died at 7 from measles.
© Voices for Vaccines. Excerpts and links may be used by websites and blogs, provided that full and clear credit is given to Voices for Vaccines, with appropriate and specific direction and links to the original content. Parents, providers, advocates, and others may download and duplicate toolkits in print, without alteration, for non-commercial use and with full and proper attribution only.