Why Family Advocacy matters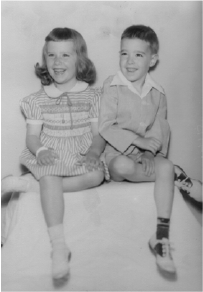 In the Fall of 1953 fraternal twins, Janice and Frankie, were first graders. Just before Halloween, Frankie stayed home from school with a bit of a head cold – nothing serious. But within a couple of days, Frankie was having trouble breathing and was rushed to the hospital. From there it was a whirlwind of terrifying events – a spinal tap, a heartbreaking diagnosis, and then an iron lung. The claustrophobic feeling of being caged in an 84-inch tube and being paralyzed, unable to breathe, must have been terrifying for the seven-year-old. Frankie's terror would be short-lived because he would never leave the iron lung. Sixty-one hours after admission to the  hospital, Frankie died from polio. The evening of Frankie's burial, Janice was also diagnosed with polio. She survived but had to learn to walk again.The heartbreaking epilogue to this story is that six months after Frankie's death, the first polio vaccine trial would take place. Only 17 months after Frankie's death, the polio vaccine was available in the U.S. While it saved millions of lives, it came too late for Frankie's family.
Frankie's twin, Janice, now a wife, mother, grandmother, and polio survivor, still misses her brother. We've had a safe and effective vaccine to prevent polio for almost 70 years, and we are on the brink of eradicating polio from the face of the earth due to vaccines. Yet, Janice feels she cannot celebrate, "As more and more parents question the necessity and safety of vaccinations (primarily because of inaccurate information that has flooded the airwaves and the Internet), I must confess that I am worried."
Most of us have never seen polio and frankly don't really worry about it. This is the double-edged sword of vaccines; they work so well that people forget vaccine-preventable diseases are dangerous and still a threat. We could replace Janice's story with one about meningitis, whooping cough, common denominator is that these diseases still threaten our children.
And this is why we all need to be active advocates for vaccines. Because these dangerous diseases didn't go away. Vaccines keep them away. If we stop vaccinating, they will come back. That's not speculation – that is a certainty.
And the way we keep them away is to be vocal vaccine champions. To vaccines. And to quash dangerous misinformation so it can't harm those we love.
That's what this toolkit does: provides you with the facts and tools to start We have long taken vaccines for granted. If we do not start being vocal about our support for them, the diseases vaccines prevent will again begin to rob children like Frankie Flood of a future. We know keeping a child safe starts with parents but includes all of us. So that's why we're focused on families. Because whether you're a mom, a grandparent, auntie, family friend – we all have a role and a job to do in keeping the children we love safe!
Based on Janice Flood Nichols' story told to the Children's Hospital of Philadelphia.
Watch Janice tell her story: I Am a Polio Survivor The Vaccine Makers Project
© Voices for Vaccines. Excerpts and links may be used by websites and blogs, provided that full and clear credit is given to Voices for Vaccines, with appropriate and specific direction and links to the original content. Parents, providers, advocates, and others may download and duplicate toolkits in print, without alteration, for non-commercial use and with full and proper attribution only.