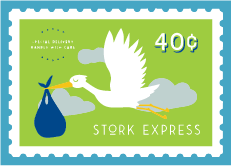 Getting ready to bring a new baby home means making your home safer and baby-friendly. You've probably been buying car seats, finding the safest cribs, and making your lifestyle healthier. Now is also the time to learn about keeping your baby and your family free from vaccine preventable diseases.
Why are vaccines necessary?
You may have no personal experience with the diseases today's childhood vaccines prevent. It might even seem as though these diseases are gone and that we no longer need the vaccines. The fact is these diseases still exist, and vaccines are still necessary to keep our children and our communities protected. In 2019, 1,282 cases of measles occurred across 31 states, the vast majority in unvaccinated people. This was the largest surge of measles cases in the United States since 1992. When people refuse vaccines, they put themselves at risk of contracting devastating diseases and spreading these diseases to other vulnerable people in their families and community, including children and the elderly. Recent outbreaks of Haemophilus influenzae type b (Hib), a dangerous infection that can cause meningitis and death in infants, have been linked to vaccine refusal, as have other outbreaks of vaccine preventable disease, such as measles and pertussis.
Still, some parents still feel that these diseases are relatively rare and that refusing vaccines is not a risky choice. Our unvaccinated children are at great risk, though, because the diseases vaccines prevent have few effective treatments, even in this day of great medical advances. Children who are unvaccinated are not protected against the suffering, complications, and long term disability that can come from vaccine preventable diseases, including encephalitis, cancer, and death.
How do we know vaccines are safe for my baby?
Vaccines are some of the safest products you will give your baby. They are tested over the course of many years; they undergo large, extensive trials; and they are continually monitored for safety for as long as they are used. In the United States, vaccines must meet stringent FDA standards in order to be licensed and are reviewed thoroughly by members of the Advisory Committee on Immunization Practices before being added to the immunization schedule.
The Institute of Medicine, the health arm of the National Academies of Science, issued reports in 2011 and 2013 reviewing thousands of research articles and found that childhood vaccines and the childhood vaccination schedule are safe and do not cause long lasting side effects or chronic conditions. The vast majority of babies experience no side effects or only mild side effects, such as soreness or fever.

© Voices for Vaccines. Excerpts and links may be used by websites and blogs, provided that full and clear credit is given to Voices for Vaccines, with appropriate and specific direction and links to the original content. Parents, providers, advocates, and others may download and duplicate toolkits in print, without alteration, for non-commercial use and with full and proper attribution only.