If you don't know Tara Smith from Kent State, you should. That may be the main reason we asked her to be a guest on our most recent podcast. She's smart, witty, and determined.
But the excuse me made to have her on the podcast was a recent article she published, "Vaccine Rejection and Hesitancy: A Review and Call to Action." As the title suggests, the article is a great primer about vaccine rejection and hesitancy, but then it also has a number of concrete ways scientists–or anyone else–can advocate for vaccines.
On our podcast, Tara discusses why this primer and call to action is needed for those working in medicine, research, and public health. She also tells us how we can move beyond science-only reactions to what is often an emotional issue.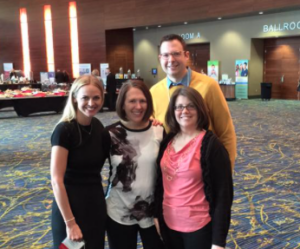 In this episode, Nathan and Karen also discuss Dr. Wendy Sue Swanon's latest post: "10 Things To Know About 2017-2018 Flu Shots." Karen also tries to make #vaxsplain a thing.
Please subscribe to our podcast at iTunes, Google Play, or Stitcher. Leave a 5-star review, too!
And give this latest episode a listen!