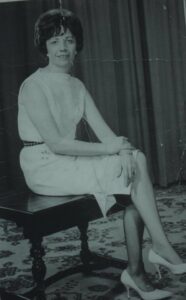 From what I've been told, my maternal grandmother was a vivacious woman, full of life. I have been told many stories about her, but never met her in person. I never knew her because she died young, taken from my mom far too early.
My grandmother passed away when I was two years old. My older siblings had a chance to meet her, briefly, but they barely remember her, and my little sister was a newborn when Mom traveled back to Newfoundland to be with my grandmother as she passed away from cervical cancer.
All my life I've wondered what it would be like to have two sets of grandparents. More important, though, I wonder what it would have been like to have known Grandma Jean. She was a single mom, who did her best to take care of her three girls, alone, at a time when the choice to parent alone was not as acceptable as it is today. From pictures, I can see she was beautiful. She was a small, slim woman with a gorgeous smile. Like her, I was slim growing up and small; I was the only one whose fingers could fit her "family ring." In fact, of all the siblings, I resemble her most. I think often about what it would have been like for her to meet my children—to simply have her in my life. Unfortunately, none of this is possible because cervical cancer took her life.
Today, there is a vaccine that can prevent the transmission of HPV, the very thing that killed my grandmother. I wish it had been available when she was young. Perhaps it could have prevented her cancer. Perhaps it could have kept her with us longer.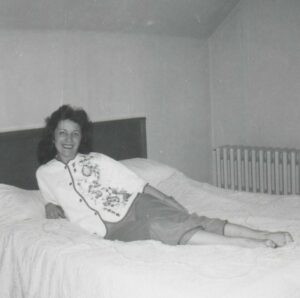 Perhaps I could have known who she was as a person, rather than knowing her only as an image in a photograph.
I have been vaccinated against HPV, and when they are old enough, my children will receive the HPV vaccine. Cancer runs in our family. My father has survived melanoma of the cornea and my uncle survived colon cancer. It is just a no-brainer for me to do everything that I can to stay healthy and to prevent my children from experiencing the heartache of losing their mother, as my mother lost hers. Especially if it's preventable.
My grandmother, Jean Hoffman, is the beautiful woman you see in these photos, before cervical cancer took away her vivacious spirit.
Stephanie Beard is a 32 year old mother to three young children ages 8, 5 and 3 years old. She is a transported Canadian who as a teenager moved with her family to the United States. She and her family currently live in Lacey, WA. She is a stay-at-home mom who enjoys crocheting and sewing in her free time.
Editor's Note: January is Cervical Health Awareness month. As recently as 2010, 3,939 women in the United States died from cervical cancer. The majority of cervical cancer cases are caused by the human papilloma virus.  If you or a family member has been affected by HPV diseases, please email us at [email protected] to have your story published here.
If you enjoyed this blog post, become a Voices for Vaccines member.