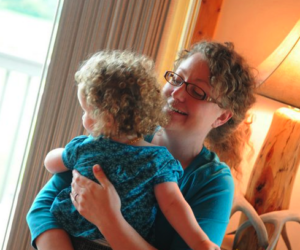 Today, instead of watching Jenny McCarthy make her debut on The View, I will be getting my annual influenza vaccine. As a registered nurse, I have been going in for my flu shot for 14 years now to protect myself, my patients, and society at large. Even though I am expecting my second child, I will not let that stop me this year.
In fact, receiving the seasonal flu vaccine can help protect me and my unborn baby. The guidelines recommending pregnant women receive flu vaccines are based on the best evidence and will give me the best shot at protection from influenza and potential pneumonia and will help my child be protected against influenza for up to 6 months after birth. This protection is especially important when a baby is born in the winter time, which is peak flu season.
I also know that being pregnant makes me more susceptible to contracting illness including influenza. Pregnant women have a greater mortality from the influenza virus in relation to the general population. A few studies suggest a higher risk of miscarriage due to maternal influenza. These risks are not ones I am willing to take.
I have informed my decision according the research and medical evidence available. Vaccination against influenza is a very effective way to protect and prevent complications and illness from the influenza virus. I will rely on the science and the evidence, not Jenny McCarthy.
Unfortunately, too many parents hear stories from people like Jenny McCarthy and are frightened out of relying on the medical professionals who promote vaccines. The View is giving Ms. McCarthy a much larger platform than my doctor will get, but the platform only matters if we give it attention. Join me today in turning away from Ms. McCarthy's view and toward science, research and evidence.
Emily Kilburg lives in Georgia where she teaches nursing at the university level.  She has also worked as a registered nurse.  She is married with one child and another on the way.