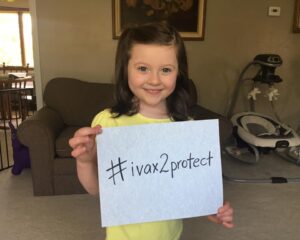 The saying goes, "What's old is new again." As National Infant Immunization Week turns 25 years old, the United States is seeing more measles cases than we have seen since 1994. The reasons for the large swaths of unvaccinated people who have led to measles outbreaks is different than it was 25 years ago, though, which only points to public health and vaccine advocates' need to constantly revise our approaches to encouraging immunization.
In the face of these incredible obstacles, Dr. Boonstra took a fact-finding tour of Europe (or maybe it was just a vacation?), and we hope he will report back later. We invited Dr. Nate Chomilo, a professor of pediatrics at the University of Minnesota, to fill in for him. Dr. Chomilo serves a diverse population, including those whose children are unvaccinated by choice and those whose children are under vaccinated due to multiple constraints. Dr. Chomilo was able to speak to the intersectionality of vaccine refusal, prejudice, and healthcare accessibility in discussing not only measles outbreaks, but also the many ways which vaccines protect our most vulnerable children–our babies.
Happy 25th anniversary of NIIW! We hope you enjoy this episode of Vax Talk!
Links/sources from the episode:
What is NIIW?
StarTribune editorial
695 measles cases
1989-1991 measles outbreak
Support Voices for Vaccines and its podcast by donating here.
Subscribe now at Apple Podcasts, Google Play, PodBean or Stitcher. You can also listen to these episodes on YouTube and Cast.