Vaccine-preventable diseases are making a comeback in the US, and community immunity may be at risk.
Less than 20 years ago, measles was declared eliminated in the US, as the disease was no longer native and all reported cases were imported from other countries. Now, there are record-breaking outbreaks of measles, mumps, and pertussis (whooping cough). This year, hundreds of cases of measles and mumps have already been reported throughout the country and in California, thousands of cases of pertussis have been reported. And, here in the Washington, DC area, there have been 15 reported cases of pertussis since school started only a few weeks ago.
These numbers call for increased education and awareness about the importance of vaccination to prevent disease. To help spread the word, the National Foundation for Infectious Diseases (NFID), in collaboration with Suburban Hospital and Kaiser Mid-Atlantic Permanente Medical Group, will screen the nationally acclaimed documentary Invisible Threat on Thursday, September 18, 2014 at 6:30-8:00 PM in the hospital auditorium, located at 8600 Old Georgetown Road in Bethesda, MD.
This eye-opening film focuses on understanding the science of vaccination and the fear and misperceptions leading parents around the country to skip immunizations. It was produced by a group of award-winning high school students from Carlsbad High School in California who set out to produce a documentary on the human immune system and uncovered a social controversy they didn't know existed, but which affects communities across the United States.
The 40-minute documentary will be followed by a panel discussion with leading national and local vaccine experts including William Schaffner, MD, past-president of NFID and professor of Preventive Medicine and Infectious Diseases, Vanderbilt University School of Medicine; Suburban Hospital experts Leila Hall, MD, and Rita Toner, RN, MSN, CIC; and Peter Kadlecik, MD, chief of Infectious Disease, Kaiser Mid-Atlantic Permanente Medical Group.
Screenings are being held across the country to spark a movement to educate students and parents about the science of immunization and the dangers of under-vaccinated communities. NFID encourages all to register and attend the free screening or to host one in their own communities.
Be a part of the movement to sustain community immunity!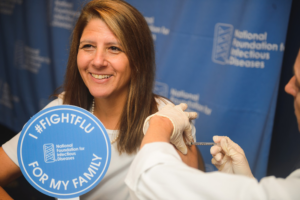 Marla Dalton, CAE, is the executive director of the National Foundation of Infectious Diseases, a non-profit 501 (c)(3) organization dedicated to educating the public and healthcare professionals about the causes, treatment, and prevention of infectious diseases across the lifespan. As chief staff officer, she provides leadership and direction for NFID in furthering its mission and assuring the organization and its programs, products, and services are consistently presented in a strong, positive manner. She is a staunch supporter of vaccines and gets her flu vaccine annually!