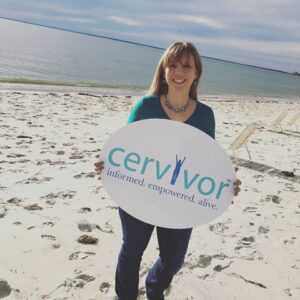 The past three years have been grueling. During that time, I was diagnosed with Stage 2 Adenocarcinoma at age 36. I was a single mother with two children, ages 6 and 8. I got the diagnosis in a roundabout way, as, unfortunately, many of us do. I had had abnormal pap smears starting 8 years prior, when I was pregnant with my daughter. I was never told that I had HPV (even though I later found out that I did) and had LEEP and colposcopy procedures.
It wasn't until I had abnormal bleeding when I finally saw an OB who said, "You know, you have this history, and you have HPV, and so I'm going to do a pap but sample cells a little higher up in your cervix." I had no idea what that even meant, but I was already laying there in the stirrups, so who was I to argue?
Again, the results indicated an abnormal pap and I was scheduled for yet another colposcopy, for the day before Thanksgiving. I didn't know it yet, but the winter holidays, which were always my favorite time of year—I'm talking pumpkin spice everything, Christmas music 24-7, Christmas sweaters, caroling, the whole 9 yards—would always seem to coincide with my experiences with this disease. I wasn't overly concerned about the colposcopy; I had been through this before. I got the results on December 15th, 3 days before my school's winter break. I was teaching when my OB called me. "I have your results. You have cervical cancer. I can't treat you and I have referred you to an oncologist. They will be calling you today. You probably have to have a hysterectomy."
I left work and sat in my car in shock. I sat there for maybe 45 minutes before the tears came. I had no idea what to expect. All I knew was I could not die: I had two babies who needed me.
That Christmas was filled with exams, PET and CT scans, meetings with oncologists and radiologists and chemo doctors to set my plan for treatment. On New Year's Eve, I had my first laparoscopic surgery. The surgeon removed my fallopian tubes and moved my ovaries out of the field of the radiation I would soon be getting. When I woke up they told me, "This surgery works to protect the ovaries about 50% of the time. If it doesn't work, you will go in to menopause." I was too dazed to even care.
Six weeks later, right around Valentine's Day, I started weekly chemotherapy appointments and 28 rounds of external radiation. I continued this for 6 weeks and then had 3 more rounds of internal radiation. My body was exhausted. I couldn't eat, I couldn't take care of my children. We moved back in with my parents so they could help get me to appointments and shuttle my kids to and from school and their activities.
And then, in April, it was over. My oncologist and radiologist sent me home telling me, "You're done. We will see you in 6 months." I was petrified. There was no way to know whether they had gotten all of the cancer. Soon after, I started having a lot of discharge. My radiologist and oncologist told me it was a sign of healing. "Wait a month and it will get better," they told me. Then, "wait 3 months and it should be gone." After 6 months I was done waiting. I knew there was something wrong.
At this point, I went to get a second opinion. I was scared to ask for this. I was worried my doctor would be upset at me for not trusting her. But I knew I needed to advocate for myself. When I got the second opinion, just under a week later, he was very clear, "There is most likely residual cancer." I couldn't believe it. My original oncologist received the second opinion and called me the same day. I was scheduled for a radical hysterectomy two weeks later. Without this second opinion, I think I would have eventually convinced my doctors to do the hysterectomy, but it would have taken longer, and the residual cancer could have spread.
After the hysterectomy, I was told that they had gotten clear margins and there was "No Evidence of Disease," which meant they found no cancer after my surgery. I only had a few days of peace and hope that this was all going to be behind me before the next issue occurred. I wasn't even able to celebrate the fact that I no longer had cancer before finding out that I would have another hurdle to overcome.
I began experiencing extreme pain in my kidneys. I found out that my ureters (what attaches your kidneys to your bladder–and I explain this only because prior to having cancer I had no idea what ureters were and how important they were!) were damaged from radiation on both sides of my body. I was told I needed to have stents placed on both sides of my ureters to keep them from completely closing up while I waited to heal from the hysterectomy and then have yet another surgery.
I spent many days and nights in the ER in excruciating pain and was told, "Go home, be stronger, be tougher." I was devastated and defeated. My body was rejecting the stents, spasming to try to push them out of my ureters. It was more painful than childbirth, more painful than chemo and internal radiation, more painful than healing from a hysterectomy. And again, I felt like no doctors were taking me seriously. This was the worst part of my treatment and recovery.
I spent that Christmas Eve in the ER. I made it home for Christmas Day and tried my best to smile through the pain and make things as normal as possible for my children. All the while I kept thinking, "Another Christmas ruined by cancer."
In January of 2017 I had major reconstructive surgery on my bladder and ureters. About an inch and half of each of my ureters was cut off. My bladder had to be moved to reattach to the ureter on the left side of my body. Then, in order to attach the right ureter, the surgeon had to cut a flap from my bladder and turn it in to a piece of ureter. Going in to the surgery the surgeon told me, "We don't know if this will work. You could wake up with an ostomy bag." I was completely terrified.
During the surgery, there was so much scarring from radiation and previous surgeries that my surgeon decided to also remove my appendix. He later told me, "I don't want anyone to ever have to go back in to your abdomen for any reason." I was sent home with stents still in place on both ureters, to aide in the healing process, and a catheter for 6 weeks. It was painful and cumbersome, but I was so thankful to not have ostomy bags.
Every time I thought I couldn't make it, I couldn't go on, every time I wanted to give up, I dug deeper. I kept finding more strength where previously there had been none. And people praised me for how strong I was and what a fighter I was, but the truth is, what choice did I have? My only other option was to give up and I knew I couldn't do that. I knew I couldn't leave my kids without their mother.
In October, with a clear PET/CT scan, I was officially one year free from my fight with cancer. My pap was another story—it showed more precancerous cells. This time they weren't cervical cancer cells; instead they were VAIN lesions, or vaginal intraepithelial neoplasia, level 2. Level 3 would be considered Stage 1 vaginal cancer. I was "lucky" that these were still precancerous cells, but what it meant was I was still fighting HPV most likely HPV would continue to cause lesions in my body.
Since January 2018, I have been cancer and lesion free. I will go back for a PET/CT and pelvic exam this month to ensure that the cancer has not spread and the HPV has not caused any other lesions.
I would never have chosen to go through this battle, but today I am choosing to see the blessings in the experience of having cancer, which includes sharing my story so other women can get a better sense of the devastating effects of HPV. My generation could potentially be the last generation to have to battle cervical cancer. We can eradicate this disease completely by vaccinating our children, daughters AND sons, with two simple, safe and effective shots.
The HPV vaccination has been proven safe and effective and can prevent all cervical cancers from occurring as well as 7 other HPV-related cancers. This vaccine is not "new"—it has been around longer than Facebook and the iPhone. It also doesn't encourage sexual promiscuity. In fact, HPV is spread through skin to skin contact and most of the population will be exposed to HPV at some point in their lives.
Vaccinating your child against HPV is one of the most important things you can do to keep him or her healthy in the future. This is my mission now. I won't let my daughters go through what I went through—and I share my story so that other women don't have to either.
Read the other part of Ana's story here.
Ana Reyes lives in Mountain View, CA with her 2 children and supportive boyfriend. She works as a mentor teacher for new special education teachers. She was diagnosed with Stage 2 cervical adenocarcinoma at the age of 37 and is passionate about spreading the word about the HPV vaccine as cancer prevention.
.