The vast majority of pro-vaxxers are content advocating behind a screen–whether they are emailing lawmakers, commenting on social media, or sharing online articles. But when the anti-vaxxers roll a bus into their neighborhoods, sitting behind a screen no longer suffices.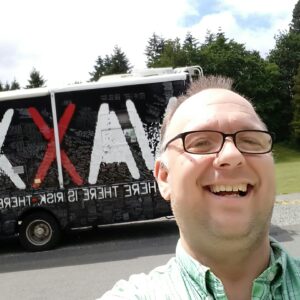 Enter Craig Egan. This Tacoma, Washington father is known in pro-vaccine circles as their funny friend who somehow changes the minds of certain kinds of vaccine refusers. Recently, though, he has put down his laptop (after setting up a GoFundMe account) and taken to the road, following a bus/RV/vector that has been promoting the Wakefield-produced anti-vaccine film Vaxxed.
It sounds like a publicity stunt or a lark, but along the way, Craig has met fascinating people and come back with some real insights. We invite you to listen to our conversation with Craig on our podcast.
We also discussed this fantastic student Hamilton parody and why parents who refuse vaccines should not lie about it in the ER.
Don't miss our special National Immunization Awareness Month episodes in August! Subscribe now at iTunes, Google Play, or Stitcher.