In recognition of CDC's National Influenza Vaccination Week (NIVW), Voices for Vaccines is participating in a blog relay with a "Focus on the Family" theme for NIVW. Each day, one of CDC's Digital Ambassadors will encourage their readers to focus on protecting the family. You can follow the NIVW conversation on Twitter using hashtag #NIVW2015.
"Focus on the Family" NIVW blog relay schedule:
  Wednesday, December 9 — Shot of Prevention – family-focused
  Thursday, December 10 — Voices for Vaccines and March of Dimes – parents and pregnant women
  Friday, December 11 – A Place for Mom and Healtheo360 – seniors and chronic illnesses
If I had gotten the flu shot the year I was pregnant I would have…
Been the first person to hold my child
Taken him to his first checkup
Had a tearful and joyful first few minutes as a new family of three
Been the first person to rock my son to sleep
Given him his first kiss
Breastfed my baby
The ability to have more kids
Seen the look on my parents' faces when they met their first Grandchild for the first time
Decided who he looked like before anyone else had a chance
Had a natural childbirth
Been the first person to count all his fingers and all his toes
Taken him home from the hospital
Filled out his "first few days" in his baby book
Witnessed his first smile
Gotten to be the one to introduce him to his big cousin
And to his furry brother
Put him in his crib his first night home
Been a part of his first pictures
Given him his first bath
Dressed him in all his newborn outfits
Been a part of the first 8.5 weeks of his life
Instead of enjoying all these moments with my newborn son, I was horribly sick with the the flu–Influenza A subtype H1N1, specifically, which had been covered by that year's flu shot.  Shortly after I delivered my son–early, and via c-section due to the severity of my illness–my husband was told my doctors that I had less than a 50% chance of survival. The flu had become pneumonia, and then acute respiratory distress syndrome. As my newborn ended his first full day of life, I was put into a medically induced coma and onto a machine that took all the blood from my body and oxygenated it so my lungs could rest and try to heal.
As our son was given his first bath, I was receiving sponge baths and developing bed sores as they were unable to move me. When he was being fed bottles, I was receiving all my food through a feeding tube down my nose. As he made his first, second, and third visits to his pediatrician, I had a team of doctors working around the clock to keep me alive. During his first 18 days of his life, all my blood left my body and received life sustaining necessities from an device called an ECMO machine. On the 19th day, I was prematurely pulled off the machine due to possible infection. Once off ECMO, I was still on a ventilator and fighting infections. I also dealt with necrotizing tissue on my leg which required a debridement surgery, a uterine artery embolization after substantial blood loss that wouldn't abate, a partially collapsed lung that required a chest tube, and a tracheotomy after being on a ventilator for too long. At my lowest point, my survival chances were less than 10%.
Thirty-four days later,  I tried to stand for the first time. I was lifted up by two physical therapists, stood for 5 seconds holding onto a walker, and then collapsed; My legs too weak to hold the weight of  my body.
Eight days later, and on my son's forty-second day of life, I was transferred to an inpatient rehab center. I worked a whole week on being able to get on and off the toilet and another trying to walk and hold an object (like a baby). More than a month and a half after I'd given birth to him, I held my son for the first time.
It was not a beautiful moment. They wheeled me into a room and I was required to wear a blue plastic hospital gown for fear of giving him any infections. Sitting up was exhausting work and a lift belt wrapped around my chest was horribly uncomfortable. Within minutes I was sweating under the plastic gown. My son came in his car seat sound asleep. As I looked at him, I didn't feel an overwhelming sense of love. I just felt distance and fear. Even more, I was so wrapped up in my own pain and uncomfortable state that I couldn't even relax and enjoy the few minutes we had. By this time, my trach had been removed and a slowly closing hole was left in its place. Every time I wanted to talk to my son, or anyone else, I had to hold one hand over the hole putting pressure on the gauze so that my words could be heard.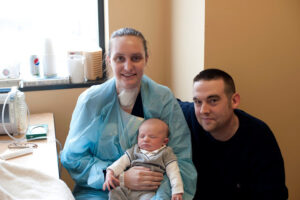 When our son was 60 days old, I left the hospital and we finally became a family. A family with a nurse who visited multiple times a week to view my open wounds, which still included a trach hole, a large opening on my leg, and an open c-section. I had physical therapy home visits as well, and within the first few hours of being a real mom I learned that the hardest workout of my day was just carrying Landon to his changing pad. By the time I was ready to change his diaper, sweat would be pouring off my face.
If I had gotten the flu shot, the first two months of motherhood wouldn't have been stolen from me. I wouldn't have a scrapbook full of pictures of strangers holding my son instead of me. I know why I didn't get the flu shot. I was about two months pregnant when I watched an Inside Edition news story of a girl who had received the flu shot and had apparently suffered a debilitating side effect: she could only walk backwards. I even remember her name: Desiree Jennings. I was shocked and horrified, and determined not to get the flu shot. It has since been revealed that Jennings' "illness" was either faked or a psychogenic illness unrelated to the vaccine.
It doesn't really matter. It was my fault for letting fear keep me from protecting myself from the flu. However, I do often wonder what would have happened if, after the reporters at Inside Edition told Jennings' story, they had shown a story like mine. Or a story similar to mine that didn't have the happy ending. Perhaps I would've gotten my flu shot. Perhaps I would have been able to hold Landon the day he was born rather than two months later. If I had gotten the flu shot, maybe our first family photo would be hanging on our wall or in a photo album that we lovingly reminisce over. Instead, our first family photo brings me nothing but pain and memories of a time I'd rather forget. The first 60 days of our son's life was the worst time in my life, and it was all because I didn't get the flu shot.
Born and raised in Louisville KY, Angela Lewis moved to San Francisco CA last year with her husband and four year old son. She works full-time as a customs broker and enjoys being outdoors and exploring new places in her free time. This piece originally appeared on her blog, A Narrow Gate.
Remember: CDC says an annual flu vaccination is the best protection against flu. Get your flu vaccine and encourage others to do the same by sharing your flu vaccination selfies on social media using the #VaxWithMe hashtag! Be sure to stop by the other NIVW relay participants' blogs to learn about the benefits of flu vaccination– tomorrow's post will be hosted by A Place for Mom and Healtheo360.