I sat down to write this piece and I asked myself "Where do I start?"
My best answer for that would be to start at the end of December.
Scott and I had moved to a decent apartment, the bottom half of a pretty house. We loved that apartment; it had a lot of space. We had an ensuite bathroom, a cold pantry, our own laundry room, big windows, and it was in a good neighborhood. Haley, almost ten, could stay at the same school. Scott was working full time as a merchandiser and loved the job. Everything was finally going in the right direction!
Chickenpox for Christmas
My mother told me in the first week of December that my sister's two kids had the chickenpox. Since we only saw the kids on holidays anyway, we didn't really worry about it.  We knew Scott hadn't had the chickenpox and neither had Haley, who was also unvaccinated.  But we figured the chances of the catching it from my niece and nephew were pretty slim; we wouldn't see them until Christmas Day and that was weeks away. 
Our routine continued as normal over the next while.  We had a fight when we went to put up the Christmas tree, and I realized how many ornaments had been broken. I was upset, so when my mother called December 10th and invited us over to bake cookies with my sister's kids at her house, I was perhaps too easily convinced that my sister's kids couldn't infect Haley. After all, they were scabbed over and feeling better. 
Thirteen days later, Haley started feeling sick. When her spots erupted on December 24th, I was pretty much in full-blown panic mode. In addition, I knew if Scott contracted them from Haley, he could get really sick. I didn't know how bad it could get, but unfortunately, I was going to find out.
People ask me sometimes why Scott wasn't vaccinated against chickenpox since he never caught them as a child. He had been offered the option, but he'd turned it down because he didn't want to have the needle.
It's the chicken pox – what's the worst that could happen?
He said, quite literally, "It's the chicken pox; what's the worst that could happen?" I now hate that phrase. 
I can tell you the worst that can happen. 
In fact, I can tell you exactly what the worst-case chickenpox scenario is.  I lived it.
Haley's case wasn't too terrible. She developed a few spots, with her worst rash was across her back.  She was constantly picking at them and I remember yelling at her not to, telling her she would scar. I also tried to keep Haley separate from Scott, but they were the best of friends and it was hard to keep them apart. I would tell her to stay away from him, and then turn around and she was curled up next to him.  I warned Scott that this could be dangerous, but he only laughed at my concern, telling me I was overreacting, that even if he did get sick he'd be fine.
Scott's symptoms began on New Year's Eve
On New Year's Eve, 2008, Matt, Scott's best friend, and his wife Sarah, invited us to come by and visit before the end of the evening, so we decided to take them up on the offer, if only because Haley was feeling better and we had both been cooped up with a sick child all week. Scott sat down on the couch and both fell asleep, which I thought odd at the time, but didn't question. The next morning, Scott had to head in to work. He called me at around 1:30 that afternoon to tell me he didn't feel well.  I – and believe me, I have guilt over this one – laughed at him, called him a dumbass for going in to work with what was likely virulent chickenpox. I told him to come home.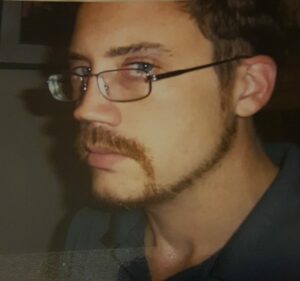 By that night, the spots started showing up on his skin. The first couple appeared under his arms, across his back, then between his thighs. He loved to take photos, so he started documenting the progress of the eruptions. By the second, he had full blown rashes erupting in patches all over his body. By the third, he started telling me it hurt to swallow, to blink, even to go to the bathroom. He soon stopped eating altogether.
On the fourth day, January 4th, it had been almost thirty hours since Scott had gone to the bathroom; he had stopped drinking. I kept trying to force fluids into him, but he really didn't want anything.  I finally called an ambulance, not knowing what else to do. The paramedics came. And I made my second mistake, the second fork in the road to his death where I will always second guess myself. 
The paramedics assessed him, then proceeded to tell him that his SATs were okay, he was lucid, he was mobile, and he wasn't "overly febrile." They told me that if he were to be taken to hospital, they would make him wait in chairs for hours, give him some antibiotics and a stern lecture on exposing the hospital to a contagious illness. They said it was his decision, but they would advise him against a trip to the hospital. So of course, Scott being Scott, he chose not to go.  
Everything changed the next day
The next day he collapsed. I have always beaten myself up over the fact that I didn't fight harder, didn't argue longer, didn't push him to go. He was an adult, but the medical world was one I walked in, I should've known better than him, I felt.
On the fifth day, the he wasn't really awake much. He slept quite a bit, and when he was awake, I could hear him almost whimpering with the pain. When I went to check on him before going to try and sleep on the couch, I found him on the floor, and I couldn't wake him up. I called another ambulance, and I called Matt and Sarah, so someone could come stay with Haley and I could go to the hospital with him. 
I managed to get him awake and he tried to walk out to the living room, but was too shaky to do it, I helped him to the couch and sat him down. That was when I noticed I was sticky; his pustules had started to break and seep. I had fluid from the pox in my hair, on my face, arm, hand, and anywhere else I had touched him. He was just leaking all over. This time, when the ambulance came, I made well and sure that they took him to the hospital.  
They took him back immediately, put him in an isolation room at the back of the Emergency Department.  I sat with him until about 1:30, and then they told me to go home, I was exhausted. They wouldn't have answers for hours, and my child needed me. So I went. I would have stayed had I known how little time he had.  
Chickenpox was causing organ failure
The next morning I got Haley up and didn't want to go to school. We argued, but I finally told her she didn't have to go. I didn't have the energy to fight with her that morning. I called the hospital and they told me Scott had been moved upstairs into the critical care unit. They needed me to come in and talk to the specialist they were consulting on his case.
When I got to the hospital, they told me Scott was in full liver failure and bilateral kidney failure. In addition, there was so much infection in his dermis they were "concerned for its integrity." Some phrases are burned into your brain no matter how much you want to forget them, and that is one of mine. I know now what they meant, though I didn't understand its meaning at the time. I called Matt and Sarah, my parents, Scott's parents, and told them all they needed to come and see him, that it didn't look very good.  
By this point, Scott was on an IV, pain, and antiviral meds. They had to change his sheets every hour or so, because of the seepage. Every time they had to move him, he would almost cry from the pain of being touched, saying his skin ached. His eyes were starting to get puffy, the sclera turning red.
I stayed with him all day that day, only stepping out to give his parents and brother some time alone with him; I took Haley down for a snack at the cafeteria to give her a respite as well. At 7:30 visiting hours were just about over, and Haley's birthday was the next day, so he told me to take her and go, he would see me the next day. So I packed up and headed home.
One last goodbye
At 10:23 pm, he called me. I will never forget that phone call. He told me he loved me, he was sorry for everything, all of it, but he was so tired and he had to go. He asked me to wish Haley a happy birthday for him, I told him to do it himself in the morning. Again, I was jokingly harsh, told him he was being a dumbass for thinking that I needed to talk to Haley for him.  He said again that he loved me, then he said goodbye.  
I should've known. Scott never said good bye. He always said "later, bay-bee." He was saying goodbye because he knew he was leaving us, I am sure.
I woke up the next morning at 6:15 because it was Haley's birthday and I had promised her blueberry pancakes for her birthday breakfast. I woke her up, got her going, and had started mixing up the batter for her pancakes when the phone rang. I looked at the call display, 6:37 am, Guelph General Hospital. I figured it was Scott calling to wish her a happy birthday and answered it thinking I would hear him.  Instead, it was a woman. She identified herself, but I can't remember her name. She told me not to panic, but that there had been an event, and that I needed to contact anyone else who needed to be there. I was not to drive myself, but I needed to get to the hospital as quickly as I could.  
Once we got to the hospital, they told me Scott had sat up in bed, gasped for air, vomited bloody fluids, and collapsed. They managed to restart his heart after the heart attack that caused the flat line, and they were trying to identify where the bloody fluids were coming from. They said they wanted to air evacuate him to London University Hospital, because there was an immunologist from England that was working there and he would be the best chance, if anything could be done. I agreed immediately, but a snow storm hit. 
It took an hour to assemble a full crash team that could travel with him in an ambulance, since everyone had to be screened for pregnancy and chickenpox antibodies.  At this point they were starting to think Scott had some mutant form of chickenpox, and we were going to have a mass outbreak of lethal chickenpox on our hands.
My father agreed to drive me to London, and we followed the ambulance.  Even in the storm, they still got him there way faster than they should have; they had to have been flying down the roads. We got there in an hour and forty-five minutes. 
When we got there, I was told, in the gentlest of terms, to start making preparations for Scott's death. Scott was in liver failure, kidney failure (both), had had a massive cardiac event, and was in skin failure. They had him hooked up to dialysis and were doing all they could. I hadn't seen Scott in about 4 hours by that point, and when I did see him, I barely recognized him.
Skin failure happens when the surface of the skin is pierced and infected in so many places that the organ itself actually starts to turn black and die. He looked like someone had taken a baseball bat or 2×4 and beaten him systematically from head to toe. He was swollen and distorted, his features were barely recognizable. He was gray or black from head to toe and he had tubes and IVs and the ventilator all hooked up. He didn't even look human any longer, let alone like my husband. 
I was so glad I had refused to let Haley make the trip with me. The next day passed in a haze of me walking the halls of the hospital or sitting with him. I was convinced by some insane logic that if I stayed with him, he would live through my sheer force of will.  
Thursday afternoon, the 8th, he had another incident, this one involving his brain. Later, post-autopsy, we knew it to be an embolism, but at the time they couldn't tell me exactly what had happened. Every time they tried to attach the pads to his skin to give him an EEG, the skin slipped off and they couldn't get a reading. 
The next morning, they told us they could not detect any active brain function.  Besides that, even if he managed to live through the worst case of chickenpox anyone had ever seen, he would need a kidney transplant, liver transplant, skin grafts, and would likely still be bedridden with severe brain damage. He would never speak again, would never recognize us again. He would be able to breathe and that was likely all we could expect, if he should live. It was my decision, they told me. They would continue care as long as I asked for it. However, at this point they felt it was only going to prolong the inevitable.
Chickenpox isn't always just "a simple childhood illness"
At 10:55 am on Friday, January 9th, 2009, eight days after eruption, Scott Edward Kuehner (Keener) died of a "simple childhood illness" that to most people is no big deal.  He was thirty-three years old, in good shape and good health, didn't smoke, and had quit drinking. He was my husband and Haley's father.
If I could go back and give myself and Scott the information that I have now, we would make our decisions about vaccination differently; that I can guarantee. I tell our story in the hopes of preventing the same mistake from being made by others. It's the same reason I helped the doctors to turn the case into a teaching case. Those pictures Scott had taken of himself? The hospital continued to document, so they have the full progression of the disease, from eruption to autopsy. I also allowed them to sample organs and tissue for study as well. If I can prevent it from happening again, I will do my best.  
When they autopsied Scott, they found chicken pox internally as well.  He had them in his nostrils, esophageal tract, lungs, stomach lining, sinuses, inside his eyes and ears, in his mouth, his rectal cavity,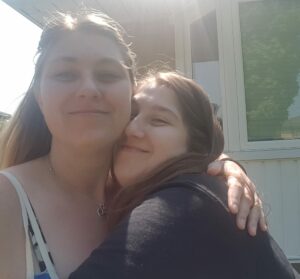 inside all of his organs, and more. The agony he must have suffered before his body gave out must have been horrible.  There's no reason for it, when one simple poke from a needle and some possible mild discomfort for a day or two is the alternative.
Get the facts and get vaccinated
I want people to learn from our mistakes. Don't bury your loved ones from a disease you can easily prevent and don't fool yourself into thinking that diseases like chicken pox are always mild.  If that is the only thing you take from my story, please take that away. It isn't worth the gamble. Those odds, the statistics they quote? Those are human lives. And one of those lives lost was my husband. Don't let it be your spouse or child. Please.
 Amanda Dawson is a 42 year old widow who was recently remarried. She advocates for vaccination awareness programs from her home in Kentucky. Haley is now almost 20 years old and lives in Canada. Get the facts about Chickenpox, and download our fact sheet.