A few months ago, I came across an article claiming that we can blame the anti-vaccine movement for the mumps cases popping up in college campuses and communities across the country. As much as I wanted to have a villain to blame for outbreaks, I also needed to make sure that all my assertions were based on facts. So I emailed VFV Scientific Advisory Board member (and all-around vaccine champion) Dr. Paul Offit, and he gave me a call to explain how much waning immunity and how much the anti-vaccine movement was to blame.
I am fortunate to have a cadre of the premiere experts in my contact's list who can guide my understanding of vaccines and outbreaks of preventable diseases, but most parents need to wait for a pediatric appointment to get guidance about their medical questions, and often actual medical issues take precedence over questions such as "How many measles cases need to occur before I start to worry?"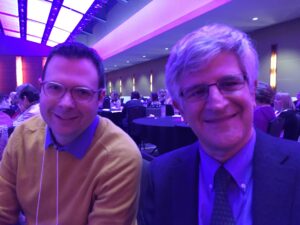 And that's why Voices for Vaccines has a podcast. Vax Talk (the podcast) is co-hosted by Karen Ernst from VFV and by Dr. Nathan Boonstra, a pediatrician from Blank Children's Hospital in Des Moines, IA.
Our latest episode explores the outbreaks of vaccine-preventable diseases we have been seeing recently, including mumps, measles, influenza, and pertussis. We invited Dr. Paul Offit to the conversation, and he gave some great advice for parents and providers about what we can all do to curb these illnesses in our communities. In addition, we discussed the AAP letter (with 350 signees) sent to President Trump and the latest PEW research about vaccine hesitancy.
Please listen to our podcast–and don't forget to subscribe and leave us a few five-star ratings. Here's where to find out podcast:
And catch our first episode, too, where we discuss HPV vaccines with Frederic Lumiere and Christine Baze from the film Someone You Love.